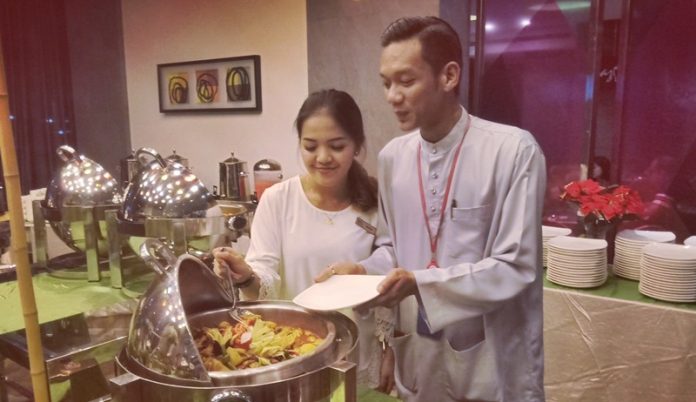 The Fasting month of Ramadhan is just around the corner and just like every year, most people will look forward to the Ramadhan bazaar which will sprout like mushrooms everywhere in the city and beyond.
For those who wish to dine out in comfort during the fasting month, a sumptuous array  of food awaits at Mercato restaurant in Avangio Hotel, located at Metro Town.
Spokesperson for the hotel, Gloria Wen said during the fasting duration, guests can hope to sample 30 dishes including desserts. The menu will be changed three times, rotated through the weeks, so guests will have a chance to enjoy a variety of dishes.
The menu include include chicken dishes and beef, mutton and fish as well as various types of vegetables and savoury items, such as hinava and mango pickles.  An array of desserts will also be available. Beverages include air bandung, tea and coffee.
The price for the buffet dinner is RM68 per person, while those who purchase coupons during the preview pay RM58. Those who wish to book a table for the evening can call 088 536888.
Avangio is also selling special kurma Hari Raya cakes and cookies. Guests can call to book the items or walk in and buy them.
Avangio Hotel Kota Kinabalu is a 103-room 4-star hotel in the heart of Kolombong's prominent industrial corridors. Featuring an all-day-dining restaurant, lounge & bar, pub and pool bar, equipped with 3 meeting rooms, a Mac business centre and a ballroom, the hotel is a prime destination for both business and leisure.
Recreational facilities include a fitness centre, outdoor swimming and wading pool atop a spa and wellness centre. Free high speed WiFi access is available in all rooms and public areas.-ce/BNN